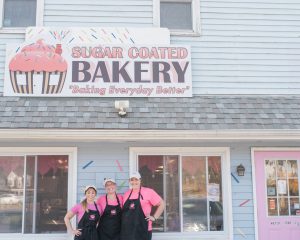 Welcome to Sugar Coated Bakery!
Located in Jenn's hometown of Dracut MA, we are a premier cake shop and full service bakery! While we specialize in all kinds of custom cakes, we offer an array of pastries and sweets daily at our storefront located on Bridge St. Be sure to swing by and grab a mouth watering cupcake, fresh from the oven cookies or some of Rebecca's signature French Macarons!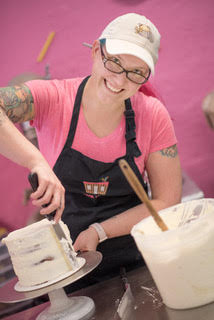 Jenn has been here since the first days. Having opened the bakery at age 25 in 2010, she's seen and done a lot over the years. You can catch her baking, mixing, frosting, decorating, washing dishes and most importantly chatting with customers. A jack of all things cake, Jenn mainly enjoys making the over-the-top ridiculously crazy cakes. Is it shaped? Does it stand on one leg? Does it move or play music? Then it's got Jenn's name written all over it. With the skills of Rebecca and Lizzie beside her, Jenn and Sugar Coated Bakery have significantly upped their cake game. Stop by and you'll see Jenn dancing around or laughing all day in the kitchen as she dreams up the next crazy cake design. Want a show stopper like you've never seen before? Go in and pick Jenn's brain for a crazy idea. When she's not in the shop, Jenn can be found chasing the snow for every possible day of skiing. When spending time with her husband, they enjoy trips to Vermont or camping in the summer time. Having run the bakery for about 8 years all alone, Jenn could not be happier to have two strong, talented and fun cake decorators on her team now.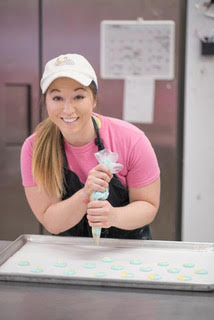 Rebecca rejoined our team in December of 2016 as Bakery Manager and has been my right hand on and off for over 5 years while she attended Johnson & Wales University. Rebecca is the perfectionist in our little group, so anything small and detail oriented falls on her table! Peonies, roses, carnations, you name it, she can make it when it comes to fondant flowers! You'll often see her busting out some adorable unicorn cake pieces or meticulously crafting a 3D dragon! Her fondant skills are surpassed only by her ability to get one of the cleanest cake edges in town! When she's not taking and baking cake orders Rebecca likes to spend her free time either at the beach or with her cat Brie! When home with her family she enjoys a good day on the lake fishing or driving around town in Dads mustang! A big fan of tequila and Mezcal, she could talk your ear off about how its made! Rebecca brings life to every cake she touches, come in and let her create a masterpiece for you!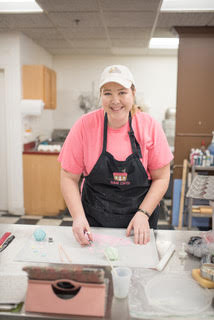 Lizzie rejoined our team in 2016, after having spent a few months with us as an intern during her schooling at Johnson and Wales University. Lizzie is our go to fondant maker extraordinaire. All of the adorable animal themed cakes in our case, or those WAY TO CUTE fondant topped cupcakes you see everyday? That's Lizzie. A queen at making the most adorable fondant animals, theres nothing she can't take on. Want a ferret, done; a sloth, done; an elephant, that's easy! Lizzie is a master at painting. All the tiny details that get added to our cakes that take it over the top, there's a good chance she was the painter behind that. When Lizzie isn't being a cake artist wizard, she enjoys spending time with her friends and going to her brother's band's shows in town. When hanging out with her family, they often enjoy crazy game times and good old fashion family fun. While you may think she's quiet from meeting her at the shop, don't be fooled. She's got a crazy fun side. Lizzie's skill set rounds out our team to perfection. Stop by and see what kind of a cake painting challenge you can think up for her.