Jennifer, Rebecca and Lizzie all had the exciting opportunity to fly to Canada to film for The Big Bake Holiday on Food Network! Our episode "Twas the Night Before Cakemas" aired on Monday December 9th, 2019. While it is currently only airing in Canada, we are hopefully that it will soon be viewable in the states!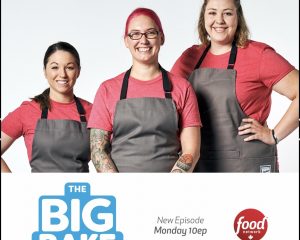 The Big Bake is a larger-than-life holiday baking competition series with themed Halloween, holiday and spring episodes. In each episode, three professional baking teams have five hours to design, bake and decorate a grand-scale cake creation based on a particular theme. These bakers need to think big and bold, blowing up their designs to gigantic proportions and thinking outside the (bakery) box. In the end, the most ambitious, eye-popping and delicious cake will go home with a $10,000 prize.
Check out some of our Behind The Scene Photos!